Once returning from the 'Girl Icon' peer meeting with Purnima (field facilitator), Devi Basumatary's raised head was bowed and her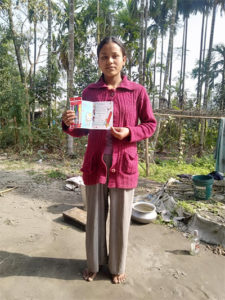 otherwise slow strides accelerated. She had noticed her dad walking towards her. After a long day of vending vegetables at the neighborhood market, Devi's mother bartered concerns with indifference at home. Absence of a regular conversation with Devi weighed down her scales of affection. Vegetable vending and daily wage labor were matters of shame in the 16 year old world of Devi Basumatary.
When the Girl Icon residential training provided her with information, the peer meetings became the platform to express and hone her leadership skills. She remained confident discussing "sensitive" topics that bordered taboo or sparked embarrassed giggles. Devi became the voice of reason when her friend had no second thoughts but to elope with a love that was triggered by a miss call. Explaining the physical and legal consequences of Child Marriage, Devi protected the rights of a friend and safeguarded the prospects of a better life.
In a residential training Devi found her journey towards leadership at crossroads with life. A Session on Values and Relationships explored the nuances of family among many other topics. A change in her attitude was reported by her mother after the training. What was expected to be a casual conversation for Purnima was met with bloodshot eyes of Devi, confessing her sense of guilt. She was ashamed of her parents' profession as she constantly compared them with her well off friends' parents. As shame withdrew, her world illuminated to the sacrifices and struggles her parents go through to keep the family together.
Devi still walks backs home after the meetings; sometimes with her peers, sometimes alone but always with her head held high.