Moinuddin Ali (20) is a bright student and a hardworking youth leader from a small hamlet named Serfanguri under Bengtol Serfang VCDC in Chirang, located just 25 kilometers away from the Indo-Bhutan Boarder. Hailing from an economically poor family, Moinuddin has faced a lot of financial barriers in pursuing his education. Since 2016, Moinuddin had been receiving scholarship for his studies from Human Welfare Foundation based in New Delhiwhich reduced in amount over the years until he completely stopped receiving the scholarship in March 2022. Unable to bear the fees of the school, he dropped out from the regular classes and returned home. But the ups and downs in the journey of his education led him to realise his potential as a youth leader and a teacher. In September 2022, the ant supported him to get admission in class 12th and continue his studies by providing a one-time financial assistance of 4,500 INR. His association with the ant even goes back to 2018 when he was engaged in the youth club. Since he was studying in Guwahati then, he could not actively get involved in the youth development activities. During the lockdown in 2020, he got the opportunity to fully engage in youth activities under the project Dolphin. As a youth worker, he along with other youths designed a project to create awareness among children and parents in the locality on drug abuse. An awareness event was conducted in Serfanguri. During that period, Moinuddin also volunteered as a supplementary teacher at Dunabari LP school for three months for which the ant gave him a certificate. But as the lockdown ended, he went back to Guwahati to continue his studies.
By February 2022, he had to return home because he stopped receiving scholarship. He again got involved with youth activities through the project Friends Across Barrier (F.a.B). This gave Moinuddin another opportunity to strengthen and apply his leadership skills on mobilizing youth and communities through his active participations in youth clubs and forums. Youth club is the platform through which Moinuddin came to be engaged with FaB project and its activities. He is a consistent member in the club who participates in the club sessions and frequently raises questions on important issues in the club proceedings. Through these platforms he worked towards children and youth's education. While Moinuddin was taking part in Assam Youth Network's workshop on creating a social action project, he designed a small project to implement in his village. The project is aimed at intervention and addressing the issue of school drop outs. His proposed project sought to reduce the rate of drop outs by 50 % in his village. As part of the intervention, he is engaging with the students of high school. Also, he engages with their parents from time to time to spread awareness about SMC roles, regulations and the detrimental effects of drop out.
Moinuddin presented his idea and helped in co-creating a Standard Operating Procedure (SOP) for the Youth Space/ 5th Space. 5th Space is a youth space created by the youths themselves and maintained by them to create a space for themselves outside the boundaries of educational institutions, family, public space, etc., where they engage in activities for youth development. Actively participating in the workshop, his ideas mostly reflected the democratic nature in which he preferred the youth space to operate and function. He suggested ideas on how the management body of the space ought to function without being overly dependent on the staff members, thus reflecting the need and motivation to mould the space as a sustainable one.
Recently, as part of the Global Action Month, he along with the assistance of a youth worker, organized a workshop on the principles of 3R s- Reduce, Reuse, Recycle. He highlighted the significance of these principles to the participants. He engaged and coordinated with peer youths to prepare charts to explain the principles in details. He also cites local examples as he believes that they would make the topics interesting and also relatable to the participants.
Moinuddin's leadership is not only limited to forums and clubs. When he was struggling financially to pursue education, he realized the importance of being financially independent and the value of education for underprivileged children. To support his education and contribute something to his family, he started taking tuitions of children in his neighbourhood. At present he takes tuitions of 25 students earning Rs. 5000/month. Recently, he started a YouTube channel which goes by the name 'Syed Gyan Assam', also could be found in the link- https://www.youtube.com/@syedgyan123, to upload his classes online, so that they are of access to all who seeks to learn. He realizes the significance of the present-day presence in the digital space. He also occasionally engages with fake news and videos to debunk and seek the truth. Due to his efforts, he has gained the popularity as a tutor for Maths, Science and English.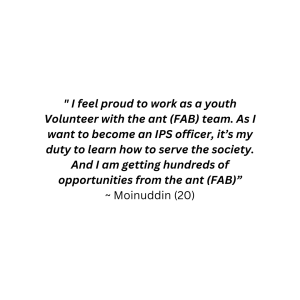 Moinuddin's hard work and passionate efforts to be educated and educate other children and youth reflects his leadership qualities and ambition to bring positive change in the society. He aspires to be in service of the nation as a Civil Servant and so, keenly follows the political developments in both national and international level.