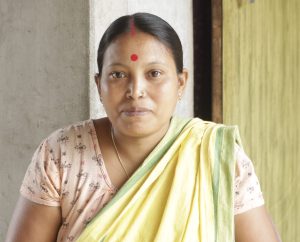 On a cold winter morning, a daughter observes her mother splash buckets of cold water on the floor of the bedroom and sweeping the remnants of 'impurity'. This ritual occurred every month and the sight of her mother cleaning the floor on which she would sleep during her menstruating days has left a deep impact on young Akadashi's mind. As she grew older and these rituals became part of her menstruation routine, Akadashi or more fondly known as Akadashi baideo found these practices more and more impractical and detrimental to women's health. One practice followed by her community that she finds disempowering for the women and girls of her community is that menstruating women cannot enter the kitchen of the household and so, non-menstruating girls and women within the village are called to cook food in those households. "In our village, whenever a woman menstruates in a household, a non-menstruating girl in the village was called by the family to cook food. But due to this the young girl would miss her classes during that time", said Akadashi baideo.
Akadashi baideo's marriage was the turning point where she got the opportunity and a liberal space in the absence of any elders in her husband's house to do away with these rituals. Making changes were easier in the new household but certainly not without obstacles when her own husband believed in these rituals. But after many arguments and discussions with her husband, he finally came around and supported her cause. Her greatest wingman in the family is her son (studying in 6th standard) who would support her by buying pads from the market during emergencies, and in the process he is learning the importance of knowing about menstruation and menstrual health. "During emergencies I ask my son to get pads for me from the local store. Sometimes he complains when the shopkeeper taunts him for buying pads which is supposed to be used only by girls and women. I, then, explain to him that he should also know about menstrual needs and shouldn't be ashamed of it so that he can support his female peers during emergencies". The ripple of change that Akadashi baideo had created in her household slowly spread to her neighbourhood and community. Taking inspiration from her, married women from her community are slowly giving up following the regressive practices that compromises their menstrual health.
Akadashi baideo has always been inclined towards social work. Her commitment to the cause of spreading awareness on menstrual health and hygiene reflects in all the work she has done with the local communities. When she worked in a women's committee wing of a local student body, she would bring up the discussion on menstrual health in the meetings. Another turning point in her life that made her capable of spreading awareness on this issue to larger audience is her training in disaster management. She learnt about menstrual health and hygiene during the training and since then has been sharing her learnings with other women and girls. It was in one of the training sessions that she met one of our ants and later joined the organization. started her work with children on personal health and hygiene. Later she began working with adolescent girls on developing interpersonal skills, and maintaining their menstrual health and hygiene. "The girls I have conducted sessions with trust me a lot. They share their personal issues with me, sometimes even the ones that they don't share with their parents", said Akadashi baideo with a wide grin on her face.